28June 2020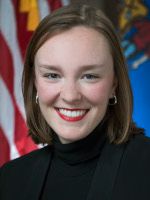 RACINE, Wis. (SPECTRUM NEWS)– State Representative Greta Neubauer openly revealed for the first time this weekend that she identifies as queer, and states she is ready to use her platform to support other members of the LGBTQ+ community.
In a commentary piece for the Racine Journal Times, Neubauer, 28, says she is not ashamed of her identity and that it makes her much better at her job.
"I'm going to utilize this platform to state that I am queer and I am not embarrassed. Being queer informs how I see myself, and it shapes how I see our society, culture, and laws. It makes me better at my task, by helping me comprehend the significance of centering the lived experiences of marginalized people in policy that affects them," she writes.
Given that taking office for the 66th District in 2018, Neubauer has sponsored several costs and resolutions in the state legislature to safeguard the rights of LGBTQ+ community, most just recently a costs that would eliminate the criminal defense of appropriate justification or self-defense if the claim is based upon the victim's gender identity or sexual preference.
June is Pride Month and for the 2nd year in a row, the Pride flag is flying over the Wisconsin State Capitol for the whole month of June.
"We will celebrate Pride by continuing to fight for a better world, as our individuals have actually constantly done. And we will celebrate Pride by informing our stories, until our voices and our message are too loud to drown out," composes Neubauer.
Neubauer was born in Racine and served as legal aide for State Representative Cory Mason before he resigned in 2018. She functioned as the director of the nonprofit Fossil Fuel Divestment Student Network, which she founded in 2013 to lobby institution of higher learnings to end their usage of nonrenewable fuel sources on school.
Click to rate this post!
[Total: 0 Average: 0]